Donating
www.jole1000.org
donate your unwanted bicycle to support African schools
www.charitychoice.co.uk
Has a directory of charities if you want to donate directly to a community group.

www.myshoes.org.uk/brands.php
Shoes change lives. By donating great high-street or designer shoes you can help MS sufferers.
www.re-cycle.org
donate your bicycle and/or bicycle parts to help families in Africa.
www.tfsr.org
donate specific tools to help families in Africa become self-reliant.
www.charityshops.org.uk
umbrella website covering 90% of charity shops in the UK. Useful shop locator to find the nearest charity shop to take your stuff to. Remember that some charity shops will collect.
Free/Swapping sites

Swap your unwanted clutter for something useful.

www.swapthelot.co.uk, or www.swapxchange.org
www.gumtree.com
Visit their swap-shop to swap stuff
To donate/swap you stuff for free, try www.dontdumpthat.com or www.freecycle.org
For clothes swapping, have a look at www.swishing.org.
Recycling
There are many organisations who can recycle and re-use your things.
www.donateapc.org.uk
A free matchmaking service to donate unwanted computers to UK charities community groups and educational establishments
www.envocare.co.uk
information on recycling durable goods to avoid them ending up in landfill
www.recycle-more.co.uk
for general recycling information.
www.readitswapit.co.uk
A free service for swapping books you've finished with for ones you haven't started
www.wasteonline.org.uk
In-depth A-Z of recycling including textiles, garden tools, you name it.
www.traid.org.uk
An organisation that runs recycling banks and shops for your unwanted clothes and textiles

www.vao.org.uk
You can send your old spectacles to Vision Aid Overseas, but do check with your local optician first because many collect in store.

www.childrensscrapstore.co.uk
reuse all sorts for children's play activities

www.computersforcharity.org.uk
will recondition your old PC and give it to a charity

www.frn.org.uk
The Furniture Reuse Network can pass on your furniture and appliances to people on low incomes.
Mobile phones are recycled by numerous organisations to raise money for charity including Oxfam and Orange

www.yell.co.uk
is a great source of secondhand shops.

www.ebay.co.uk
the online auction site

www.amazon.co.uk
for selling books and CDs

www.carbootcalendar.com
lists car boot sales in the UK

www.maternityexchange.co.uk
the UK's largest Dress agency dedicated to maternity wear.
Antiques

For advice on selling antiques and for reputable dealers:
www.lapada2.co.uk
The Association of Art and Antique dealers

www.bada.org
The British Antique Dealers Association

www.bbc.co.uk/antiques
For general information on antiques and the best way to sell them.

www.myhouseandgarden.com
Fantastic site covering all aspects of home life from feng-shui to health to seasonal recipes. Check out Sue's article on decluttering.
www.helpiammoving.com
Provides independent advice on moving house, from moving with children to moving with fish. Checklists, Online Removal and Storage Directory, Change of Address cards and much more.
www.services-24.com
has lots of useful information on moving home and home improvements.
www.hintsandthings.com
A pearls-of-wisdom site. Chock full of little hints and tips about running a home.
www.movingetc.co.uk
helps take the stress out of moving

Storage solutions

You are spoilt for choice when it comes to storage. Department stores such as John Lewis or DIY superstores have a wide range of products.
www.buy.at/cancercounsellingtrust
Lots of great products from John Lewis, MFI, M&S and many others. If you buy via this site you'll support the Cancer Counselling Trust.
www.muji.co.uk
Great transparent products so you can see what you've stored

www.bureau-online.co.uk
Stylish and colourful storage products to keep your paper under control at home or in your office. Also a range of office furniture.
www.lakelandlimited.co.uk
Solutions for the home, says the website, and they're not wrong. Massive website, loads of products, but be selective. If you end up not using it, it's just more clutter!
www.theholdingcompany.co.uk
A fast and efficient on-line catalogue to order their innovative and stylish products to keep you organised and save you time.
www.bpca.org.uk
British Pest Control Association if you have a serious moth infestation.

www.hellsgeriatrics.co.uk
Staying clutter free helps through all life's transitions. This is a fun site for the over 50s.
Women

www.whatukwomenwant.com
A site by women for women sharing information about their lives plus women friendly goods and services. Read Sue's article on how to transform your wardrobe (link on their home page, about halfway down).
www.chicklit.co.uk
A site for UK women writers. Check out Sue's article on clearing the decks for writing here.

www.pinkananas.com
Nicoletta, a leading image consultant from pinkananas will guide you to a stylish wardrobe.

Families

www.tigerchild.com
A lively site about bringing up children - check out Sue's article Ten Top Tips for a clutter free family home here. (You may need to type "clutter" into their search engine).


Simple Living

www.simpleliving.net
tips on how to unclutter your life
www.presentaid.org, and www.oxfamunwrapped.com
for great ethical gifts like goats and cans of worms going to a developing country

www.mpsonline.org.uk
Mail preference service – to stop junk mail wasting your time.
www.bl.uk/about/cooperation/adopt.html
adopt a book from the British Library for an unusual gift.
www.wearewhatwedo.org
A new movement encouraging people to change the world with simple everyday actions.
Support organisations

www.crusebereavementcare.org.uk
Contact CRUSE for help following bereavement National help line 0870 167 1677
www.relate.org.uk
Relate offers counselling and workshops if clutter is causing a problem in your relationship

www.bacp.co.uk
The British Association of Counselling and Psychotherapy has a list of qualified therapists and counsellors.

www.nationaldebtline.co.uk
if your compulsive shopping has led to financial problems Free phone 0808 808 4000

www.adviceguide.org.uk
Citizens' advice bureau offer support on debt problems

www.clutterersanonymous.net
follows the 12 step approach. Their spiritual approach to overcoming clutter sees hoarding as a manifestation of deeper problems.

www.messies.com
is an active website with online support groups and useful tips.

www.flylady.net
sends out tips so you can fly in your battle against clutter.

Extreme hoarding

For severe problems with hoarding speak to your GP in the first instance. There may be underlying medical conditions such as Obsessive Compulsive Disorder (OCD), Attention Deficit Disorder (ADD) or depression.

www.addiss.co.uk
The National Attention Deficit Disorder Information and Support Service

www.ocdaction.org.uk
National organisation offering advice and support for people experiencing Obsessive Compulsive disorder.

Professional Help
Sometimes you need professional help to boost you on your way to a clutter-free home.
no more clutter is a founder member of the Association of Professional Declutterers and Organisers, a central resource for everyone providing or searching for decluttering services in the UK
www.apdo-uk.co.uk

Beyond the UK, try NAPO

in the US,
AAPO

in Australia and NZ,
POC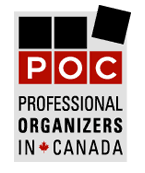 for Canada,
and in South Africa,