It's good to be back!
I'm back from my summer sabbatical feeling relaxed and rested. I haven't climbed any mountains or run any marathons but I've loved having the space to unwind and take stock of things.

I would like to say a huge thank you to everyone who sent me good wishes, cards and sent me positive feedback on my book No more clutter, especially those who took the time to review it on Amazon. I apologise that I haven't replied individually but each one was really appreciated.


My new book Hoarder to Order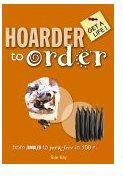 has just been published. It's part of a series called Get a Life and takes a straightforward 100 day approach to sorting out your home by spending just 30 minutes a day getting organised. I know a 100 days sounds like forever but if you started now think how great your home will look by Christmas!


Here are 8 ideas to get your decluttering restarted after the long hot summer:
Mend one thing you've been promising to fix for months
Chuck out one broken thing that is beyond hope
Say goodbye to one item of clothing that doesn't fit, makes you feel dowdy or is falling apart
Sort out one paperwork file - whether it is your car, household bills or pets' stuff
Upgrade one small item that has been getting on your nerves even if it's just replacing a faded lampshade.
Turn the TV off one evening and curl up with all those unread magazines.
Update your address book in good time for Christmas
Dig out boots and winter shoes and get them reheeled before autumn takes hold
Crown your month's achievements by completing Sepember's tip - Create one clutter free zone

TV Documentary
ZigZag Productions and Channel 4 are producing a documentary project about Hoarding. They are interested in speaking confidentially to anyone who suffers from or is affected in any way by this condition.
Here's a quote from them with some more details about them and what they'd like to do:
"We have considerable experience and a well-respected reputation in making sensitive films [concerning these kinds of issues]. We are looking to follow four people going about their everyday lives over 3-4 days of filming. Because of the sensitive nature of the documentary we have a small crew; director, assistant producer and researcher, ensuring more intimacy and less fuss. We are keen to speak to people who are fairly near the beginning of their journey in terms of decluttering so we can speak to them about the whole process and we would like to film their story about managing their lives living with compulsive hoarding. We only want to follow the natural course of events and will not apply editorial pressure in any way."
If you are interested in taking part, contact them on
ocdaction@zigzag.uk.com
t: 020 7017 8765
ZigZag Productions
13-14 Great Sutton Street
Clerkenwell
London, EC1V 0BX
September's newsletter was short and sweet but the October newsletter will be back at the beginning of the month as usual. I'm taking booking for clients for October so do give me a ring (020-8444-5149) if you need some help.



Sue Kay works with a wide range of clients to organise home offices, small businesses, declutter before a house move, prepare your spare room for a new baby and organise your wardrobe ready for the new season. If you're selling your home, she can help you present it clutter-free for the market to achieve a quick and profitable sale. For practical sympathetic help call Sue on 020 8444 5149 or check out the website at www.nomoreclutter.co.uk