Use it or lose it!
This month we're going to look again at one of the fundamental principles of clutter - Use it or Lose it! It may sound a bit glib but I'm convinced that most people's homes are clogged up with unused stuff that is gathering dust. Some of this clutter may be evidence of old enthusiasms - when you decided to learn the flute, knit a jumper, or spent long evenings with your Playstation One games...... Or it may be more recent purchases that have never really found either a home or a place in your affections. Say you bought a CD last year - listened to a few tracks and then stuck it on the CD rack - is it clutter? Yes, absolutely. But you might argue I'll probably listen to again one day. Or the waffle maker you thought would transform Sunday breakfasts - used once and now it languishes on top of the kitchen cupboards. All these items are in that strange category of - maybe, just in case, I'll have more time in the future and so on.

My September challenge to you is to dust off some of these relics, have a long hard look at them and ask yourself honestly will I ever use them again. If the answer is no then straight to the charity shop or eBay.

If you're not sure then make a date to use them this month. This will help clarify your feelings and whether they deserve room in your home.

Try...

Using any kitchen gadgets that haven't been in action in the past year - think juicers, breadmakers, sandwich makers.
CDs you have only listened to once - give them a few plays to see if you really like them.
Dig out all those half-read books and either finish them or let them go.
Revive old computer games that have fallen from favour and see if they still grab you.
Actually cook a few of the recipes torn from magazines .
Hang all the summer clothes you haven't worn at one end of the wardrobe. In the UK we've had a very mixed summer so if you haven't worn something is there a clue there that you no longer like it? Or have you simply forgotten you owned it. So air these unworn clothes while there is still a bit of summer left.
Video/DVD Recordings of TV programmes - are you really going to watch a 3 month old episode of the Bill or the highlights from Wimbledon. It's liberating to scrub these and start again. It takes away the feeling of being pressed for time.
Makeup/grooming products - use up or chuck samples from magazines or hotel freebies.
Exercise equipment - retrieve the weights or rowing machine from under the bed. Free the exercise bike from it's coating of ties, bags and other flotsam. See if you actually can get into a rhythm of using them
There's something so forlorn about broken stuff - so either mend it or chuck it/recycle it. Take your shoes to the menders, sew on some buttons (or take them to the dry cleaners/tailors), mend the door knob and the hinge on the cupboard door. You'll be amazed at how calm and ordered you feel when things are working around you.
I'm taking my own advice and have been hobbling around on a pair of expensive sandals that gave me blisters earlier in the summer. They seem to be slowly wearing in but if they're not comfortable by the end of September they're off to charity! I also have been listening to CDs I bought and never got to know. I realised it was because I bought too many over a short period of time. Overload means it's hard to get a handle on new stuff. Less really is more.

If you would like more ideas on how to kick-start and maintain the decluttering process plus gain insight into the psychology behind hoarding have a look at my new book "No more clutter"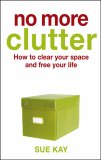 September Tip(s)
Five tips in one this month as we Claim back time to Declutter



September's Clutter Clinic

Jake asks

I'm moving into a smaller apartment in central London after I split up with my partner recently. I want to get rid of some furniture and also a couple of computers that I no longer need. Do you have any ideas?

Sue says

I'm sorry to hear about your break-up. Starting over with new stuff can be a positive way to let go of the past.

If you want to sell the stuff - there are the usual channels like House Clearance, Loot and of course eBay. Otherwise if you want to donate to charity try the Furniture Network. Check with them about Fire Safety marks. They are at www.frn.org.uk

If your furniture is still usable but not worth much, consider placing it outside on the pavement on a dry day with a note saying "Please take me". Just be careful not to cause an obstruction. It usually works for me.

To donate computers try

www.computersforcharity.co.uk

or www.express-link-up.org.uk

Good luck.
I hope you've all had a good summer and have an energising September bringing order and clarity back into your lives. I always love to hear from you and particularly if you have any good tips for next month's topics. If you've some good ideas for either encouraging kids to declutter or for getting on top of virtual clutter do send them in to clutterclinic@nomoreclutter.co.uk. I appreciate it!

Sue


Sue Kay works with a wide range of clients to organise home offices, small businesses, declutter before a house move, prepare your spare room for a new baby and organise your wardrobe ready for the new season. If you're selling your home, she can help you present it clutter-free for the market to achieve a quick and profitable sale. For practical sympathetic help call Sue on 07974 076 675 or 020 8444 5149 or check out the website at www.nomoreclutter.co.uk