Stop Press: April/May newsletter will be out end of April
Sorry for the delay, but in the meantime - read on with our March newsletter...
Speed up for Spring
Spring is just round the corner and I'm immersed in a flurry of deep decluttering in my own home. The paper shredder is groaning under the onslaught of all the outdated documents being chucked. I'm looking at everyday objects with open eyes and asking myself if they pass the Smile Test. My fruit bowl didn't so I treated myself to an Alessi one that is gorgeous to look at. I've been going through my CDs and listening to the ones that have been gathering dust lately to see if they are worth keeping. Bags of books have gone off to a new home via the Oxfam bookshop. Every nook and cranny of my home is being revamped.

So what is driving this strong urge to simplify and refresh my home? It's partly because I've escaped from a long period at my desk writing my second book and it's partly because I'm moving home shortly and I'm looking forward to a period of renewal and change.

March challenges

Last month's newsletter focused on small specific goals to aim for. This month stretch your wings and try one of the following:
Choose a room that could do with a facelift and set yourself the target of clearing all the clutter as a prelude to redecorating or buying some new furniture or accessories. Have a clear picture in your mind before you start - it may help to rip an inspirational image out of one of those magazines you've been hoarding.
If your kids are growing up and need a more age-appropriate decor - motivate them to clutter clear by planning the new look together.
Sell or donate one piece of furniture that is surplus to requirements and is clogging up your home.
Tackle your paperwork. Have a look at the chapter in my book no more clutter for a step by step guide on this challenging area.
Change one hoarding habit this month. If you keep unread newspapers for weeks, this month recycle them the next day. If you automatically put unwanted stuff into the loft or garage, stop and take it to the charity shop straightaway.
This month's tip

Deal with broken stuff that is littering your home. Fix it or fling it.

For more ideas on how to get a head-start this Spring have a look at Sue's book. Click on the picture to check it out.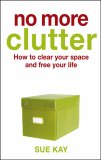 Thank you so much to everyone who sends me positive comments about how no more clutter has inspired their decluttering journey. I really appreciate all your comments and stories.

Readers suggestions

There is a support group in Marylebone in London for serious hoarders - OCD Action - see www.ocdaction.org.uk for more details.

For some inspirational reading have a look at www.ribabookshops.com - the bookshop of the Royal Institute Of British Architects.

and finally...

"We all need quiet time to examine our lives openly and honestly - spending quiet time alone gives your mind an opportunity to renew itself and create order."
Susan Taylor
Successful decluttering!


Sue Kay works with a wide range of clients to organise home offices, small businesses, declutter before a house move, prepare your spare room for a new baby and organise your wardrobe ready for the new season. If you're selling your home, she can help you present it clutter-free for the market to achieve a quick and profitable sale. For practical sympathetic help call Sue on 07974 076 675 or 020 8444 5149 or check out the website at www.nomoreclutter.co.uk