Say Goodbye to Stuff
One dictionary definition of stuff is "worthless objects". Worthless doesn't just mean tatty, broken trash - it also means the things that are perfectly serviceable but you don't like. A unwanted gift set of beauty products is stuff to you, but not to a charity shop.


I bet with Christmas and the sales even more clutter has entered your life recently. So make January the month you start to shift the stuff out of your life.


8 point challenge
Donate or sell any unwanted Christmas presents that you haven't already returned to the shops.
Shopping guidelines - walk away from every non-essential purchase you make this month. Take a couple of minutes and ask yourself - do I love it or is it simply stuff? It's easy to get tempted when the January sales are in full swing
Every time you open a "stuffed" overfull drawer or cupboard take out one piece of clutter and discard it!
Step up your battle against paper stuff. Don't even waver a minute before the circulars or marketing material hit the recycling box. Get rid of the backlog of old newspapers, 2005 catalogues and holiday brochures too.
Virtual stuff - stop printing off every article you read on the internet. Bookmark your favourite sites instead.
Find an unwanted one of each of the following to declutter - 1 video, 1 CD, 1 kitchen utensil, 1 book, 1 pair of grotty socks, 1 blotchy biro, 1 piece of tired underwear, 1 broken thing and 1 thing you absolutely hate!
Sentimental stuff - did you automatically keep all your Christmas cards? Why? Keep the special ones and recycle the rest.
Ferret out one of the expensive shopping mistakes you made last year. Is there anything you can learn about how your money ended up as stuff! Did you shop in a bad mood, did you panic because you had a wedding to go to or did you get pressure from your partner or a friend to go against your instincts? Try and not repeat the pattern in future. But for now it's stuff so don't get hung up on it - everyone makes mistakes - but you don't have to cling onto yours. I'm going to take my own advice and let go of a peculiar cardigan I bought when I was killing time. I look like a Goth in it! Let yours go today and liberate yourself...............
New Edition of No More Clutter - the book
For more decluttering tips, Sue's book no more clutter is now available in a smaller, great value edition from Amazon - click on the picture to check it out...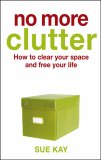 January's Tip

Don't go it alone this year - get yourself a clutter buddy

Interesting website

If you've got a spare bike after Christmas have a look at www.jole1000.org for information on donating surplus bikes or Adopt-a-Bike which supports African schools.


The Australian Association of Professional Organisers

For all of you in Australia who need some help with your clutter check out

www.aapo.org.au


That's it from me this month - A very Happy Clutter free New Year to you and I'd like to leave you with this thought

"The measure of success is not whether you have a tough problem to deal with. but whether it's the same problem you had last year."
John Foster Dulles





Sue Kay works with a wide range of clients to organise home offices, small businesses, declutter before a house move, prepare your spare room for a new baby and organise your wardrobe ready for the new season. If you're selling your home, she can help you present it clutter-free for the market to achieve a quick and profitable sale. For practical sympathetic help call Sue on 07974 076 675 or 020 8444 5149 or check out the website at www.nomoreclutter.co.uk